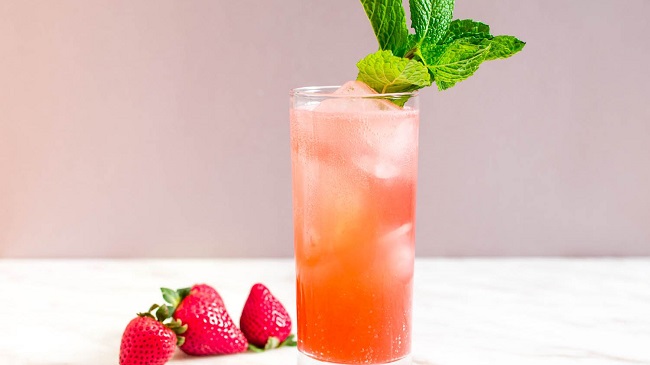 Is there anything better than enjoying some sunshine while sipping on a refreshing drink made with an ultra-premium vodka like LeSin Vodka?
Vodka is a warm weather favorite because it complements the sweet, citrusy flavors of summertime so well. These summer vodka cocktails will quench your thirst and get you in the midsummer mood. Enjoy responsibly!
Refreshing Vodka Fizz
A vodka fizz, made with club soda, vodka, and flavorings of your choice, is the perfect summer drink for a hot day. This refreshing drink can be made as you like it, and it always tastes fresh because of that delicious carbonated goodness.
Here's our recipe:
● LeSin vodka
● Club soda
● Simple syrup
● Lime or lemon juice
● Garnish with mint leaf, berries, or citrus slice
To make a refreshing vodka fizz, pour your vodka over ice. Add simple syrup to taste — it's fun to experiment with flavored simple syrup, like mint or berry. Then pour your club soda to the top, squeeze your citrus over the drink, and give it a stir. Don't forget to add a mint leaf or a lemon slice for your garnish. Enjoy!
Porn Star Martini
For a summer night on the town, start off with the iconic porn star martini. This one's been rising to popularity because of its prevalence in reality shows — and because it's downright delicious. If drinking this is the closest you'll ever get to a porn star, consider yourself lucky because this passion fruit mix will leave you starstruck.
Here's our recipe:
● 2 shots LeSin vodka
● 1 shot passion fruit liqueur
● Lime juice
● Vanilla simple syrup
● Garnish with passion fruit or lime slice
Grab your cocktail shaker with ice and add two shots of your favorite vodka. Add one shot of passion fruit liqueur, squeeze some lime juice, and add a dose of vanilla simple syrup. You can also use vanilla flavored vodka, but we prefer the delicious taste of LeSin vodka. Shake it up, pour into a martini glass, and enjoy with a dainty garnish of lime slice or passion fruit.
Lemon Drop
If you have a sweet tooth, this cocktail is perfect for you. The sugar rim gives way to a sweet-but-tart drink that puts vodka and its best friend lemon right at the forefront. This is the perfect drink to enjoy by the pool or while you watch the sunset on a warm summer evening.
Here's our recipe:
● 2 shots LeSin vodka
● ½ to 1 shot triple sec
● 1 shot lemon juice
● 1 shot simple syrup
● Garnish with a sugar rim
Add your vodka, triple sec, lemon juice, and simple syrup to a shaker with ice. Shake, shake, shake, then pour into a wine glass or martini glass garnished with sugar on the rim. The perfect bittersweet beverage!
Just A Vodka Martini
It's no secret that vodka martinis are one of the best ways to enjoy vodka. The savory olive juice perfectly complements the dry flavor of vodka and, when chilled, makes for a sumptuous beverage best enjoyed at the pool bar.
Here's our recipe:
● LeSin vodka
● Dry vermouth
● Green olives
You probably already know how to make a great vodka martini, but we'll spell it out for you. Add your vodka and vermouth to a shaker with ice, then pour into a martini glass. Garnish it with as many olives as you please.
Simple But Delicious Vodka Tonic
If the flavor of vodka excites you, a simple but delicious vodka tonic is the way to go. With just lime, vodka, tonic water, and ice, you can truly appreciate the taste of your ultra-premium vodka with this one.
Here's our recipe:
● LeSin vodka
● Tonic water
● Lime
Here's how to craft your low-effort vodka tonic. Grab the glass of your choosing — we recommend crystal for optimum summer vibes — and some ice. Pour your vodka and tonic water over the ice. Then, add a squeeze of lime and drop the lime wedge in. Let the carbonation fizzle a bit before taking a sip!
Super Spicy Bloody Mary
You might not think a super spicy bloody mary would quench your thirst on a hot summer day, but the spice will actually cool you down. Plus, this savory treat is a brunch favorite, and all summer weekends should be spent enjoying a late morning meal with friends.
Here's our recipe:
● 2 shots LeSin vodka
● Tomato juice or Clamato
● Horseradish
● Tabasco
● Worcestershire sauce
● Green olives
● Cornichons
● Celery
● Bacon
Start with a tall glass with a few ice cubes and add your chilled vodka. Add about a teaspoon of horseradish and about a teaspoon of Worcestershire sauce, along with a few drops of Tabasco (you can add more of each later if you wish). Then pour in your tomato juice or Clamato and mix with a straw. Add green olives, cornichons, celery, and bacon as garnishes. Enjoy with any savory garnishes, and try throwing a bit of pickle juice for a sour twist.