The Ultimate MySQL Bootcamp 12강을 공부하며 정리한 내용입니다.
Types of Data Relationships
One to One 일대일

One customer from Customer table has one row in the Customer detail table and one customer detail row is associated with one customer.
Many to Many 다대다

Books have multiple authors and authors can have multiple books.
One to Many 일대다

A customer can have many orders but an order belongs to one customer.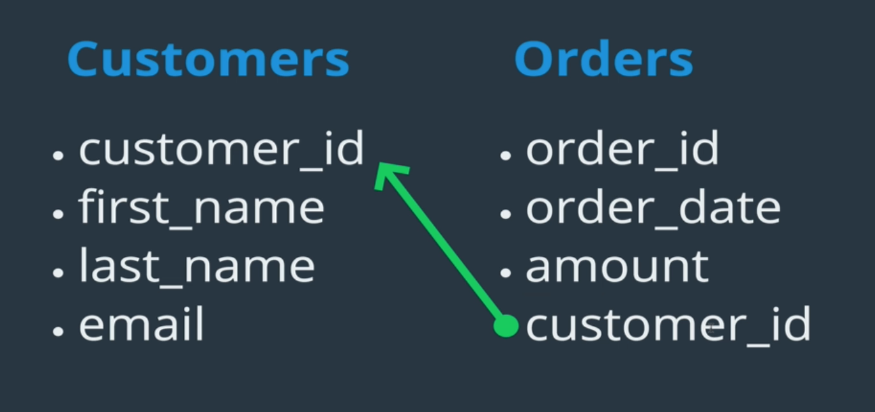 CREATE

 

TABLE

 

customers

 

(


    id 

INT

 

AUTO_INCREMENT

 

PRIMARY

 

KEY

,


    first_name 

VARCHAR

(

100

)

,


    last_name 

VARCHAR

(

100

)

,


    email 

VARCHAR

(

100

)




)

;





CREATE

 

TABLE

 

orders

 

(


    id 

INT

 

AUTO_INCREMENT

 

PRIMARY

 

KEY

,


    order_date date

,


    amount 

decimal

(

8

,

2

)

,


    customer_id 

INT

,

 
    

FOREIGN

 

KEY

(

customer_id

)

 
      

REFERENCES

 

customers

(

id

)


      

ON

 

DELETE

 

CASCADE




)

;





INSERT

 

INTO

 

customers

 

(

first_name

,

 last_name

,

 email

)

 


VALUES

 

(

'Boy'

,

 

'George'

,

 

'george@gmail.com'

)

,


       

(

'George'

,

 

'Michael'

,

 

'gm@gmail.com'

)

,


       

(

'David'

,

 

'Bowie'

,

 

'david@gmail.com'

)

,


       

(

'Blue'

,

 

'Steele'

,

 

'blue@gmail.com'

)

,


       

(

'Bette'

,

 

'Davis'

,

 

'bette@aol.com'

)

;





INSERT

 

INTO

 

orders

 

(

order_date

,

 amount

,

 customer_id

)




VALUES

 

(

'2016/02/10'

,

 

99.99

,

 

1

)

,


       

(

'2017/11/11'

,

 

35.50

,

 

1

)

,


       

(

'2014/12/12'

,

 

800.67

,

 

2

)

,


       

(

'2015/01/03'

,

 

12.50

,

 

2

)

,


       

(

'1999/04/11'

,

 

450.25

,

 

5

)

;







SELECT

 id 

FROM

 books


WHERE

 last_name 

=

 

'George'

;




SELECT

 

*

 

FROM

 books


WHERE

 customer_id 

=

 

1

;

 




SELECT

 

*

 

FROM

 books


WHERE

 customer_id 

=

 

(


  

SELECT

 id 

FROM

 customers
  

WHERE

 last_name 

=

 

'George'


  

)

;






SELECT

 first_name

,

 last_name

,

 order_date

,

 amount  


FROM

 customers

,

 orders

;






SELECT

 first_name

,

 last_name

,

 order_date

,

 amount


FROM

 customers

,

 orders 


WHERE

 customers

.

id 

=

 orders

.

customer_id

;






SELECT

 first_name

,

 last_name

,

 order_date

,

 amount


FROM

 customers 


JOIN

 orders 
  

ON

 customers

.

id 

=

 orders

.

customer_id

;






SELECT

 

*

 

FROM

 customers


LEFT

 

JOIN

 orders
  

ON

 customers

.

id 

=

 orders

.

customer_id

;





SELECT

 
  first_name

,


  last_name

,

 
  

IFNULL

(

SUM

(

amount

)

,

 

0

)

 

AS

 total_spent


FROM

 customers


LEFT

 

JOIN

 orders
  

ON

 customers

.

id 

=

 orders

.

customer_id


GROUP

 

BY

 customers

.

id


ORDER

 

BY

 total_spent 

DESC

;
---
QUICK CHECK

SELECT

 
  first_name

,


  title

,


  grade


FROM

 students


JOIN

 papers


ON

 students

.

id 

=

 papers

.

student_id

;

SELECT

 
  first_name

,


  title

,

 
  grade 


FROM

 students


LEFT

 

JOIN

 papers 


ON

 students

.

id 

=

 papers

.

student_id

SELECT

 
  first_name

,


  

IFNULL

(

title

,

 

'MISSING'

)

,


  

IFNULL

(

grade

,

 

0

)

 


FROM

 students


LEFT

 

JOIN

 papers 


ON

 students

.

id 

=

 papers

.

student_id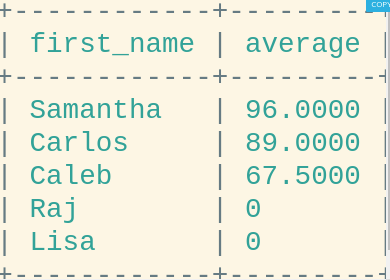 SELECT

 
  first_name

,

 

IFNULL

(

AVG

(

grade

)

,

 

0

)




FROM

 students


LEFT

 

JOIN

 papers


ON

 students

.

id 

=

 papers

.

student_id


GROUP

 

BY

 students

.

id 


ORDER

 

BY

 average desc

;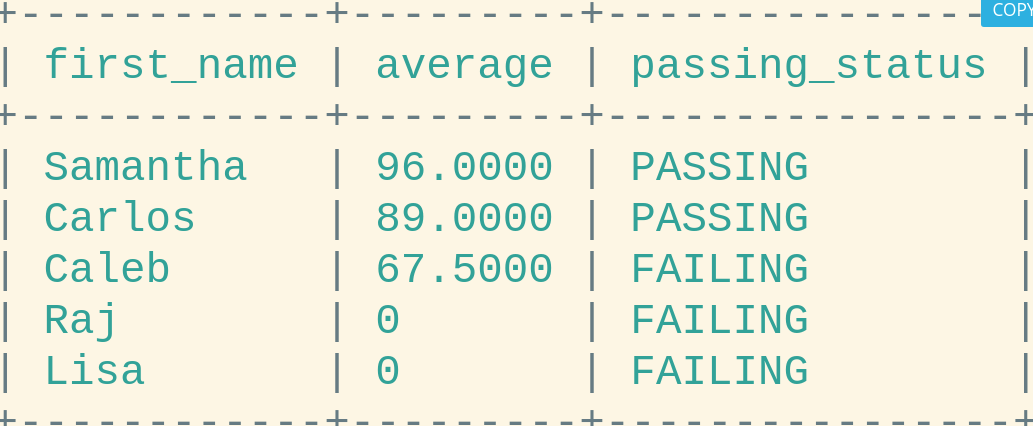 SELECT

 
  first_name

,


  

IFNULL

(

AVG

(

grade

)

,

 

0

)

 

as

 average

,


  

CASE


    

WHEN

 

AVG

(

grade

)

 

IS

 

NULL

 

THEN

 

'FAILING'


    

WHEN

 

AVG

(

grade

)

 

>=

 

75

 

THEN

 

'PASSING'


    

ELSE

 

'FAILING'


  

END

 

AS

 passing_status


FROM

 students


LEFT

 

JOIN

 papers


ON

 papers

.

student_id 

=

 students

.

id


GROUP

 

BY

 students

.

id


ORDER

 

BY

 average 

DESC

;