Week2. Exploring how a project manager adds value
Project managers?
Shepherd projects from start to finish
Serve as guides for their team, using their impeccable organizational and interpersonal skills every step of the way
How to add value
Prioritization
Helping team members identify and break down large tasks into smaller steps
Delegation
Matching tasks to individuals who can best complete the work
Effective Communication
Being transparent
Being up front with plans and ideas and making information readily available
Keep in regular contact with their team about the progress of the work
Help identify areas where a teammate may need support
Main ways that project managers can add value
1. Focusing on the customer
Asking the customer questions_
1. What is the problem you would like us to help solve?
2. How is the problem impacting your organization?
3. What prompted you to ask for help now?
4. What is your hope for the outcome of this project?
2. Building a great team
Identify the right team
Bring on people with the right skills
Ensure the team knows that each individual is valued, trusted, and appreciated
3. Fostering relationships and communication
Take the time to build relationships, communicate, and treat others with consideration and respect
4. Managing the project
See the impacts of each process within the project and communicates those impacts to the team
Help team members understand the big picture
5. Breaking down barriers
Allow their team to innovate new ways to do things, and empower them to share ideas
Key project manager roles and responsibilities
Planning and Organizing
1. Make use of productivity tools and creating processes
2. Create plans, timelines, schedules, and other forms of documentation to track project completion
Budgeting and controlling costs and other factors
1. Monitor and manage the budget
2. Track issues and risks
3. Manage quality
4. Remove unforeseen barriers
Managing Tasks
1. SKeeping track of tasks
Responsibilities that utilize interpersonal skills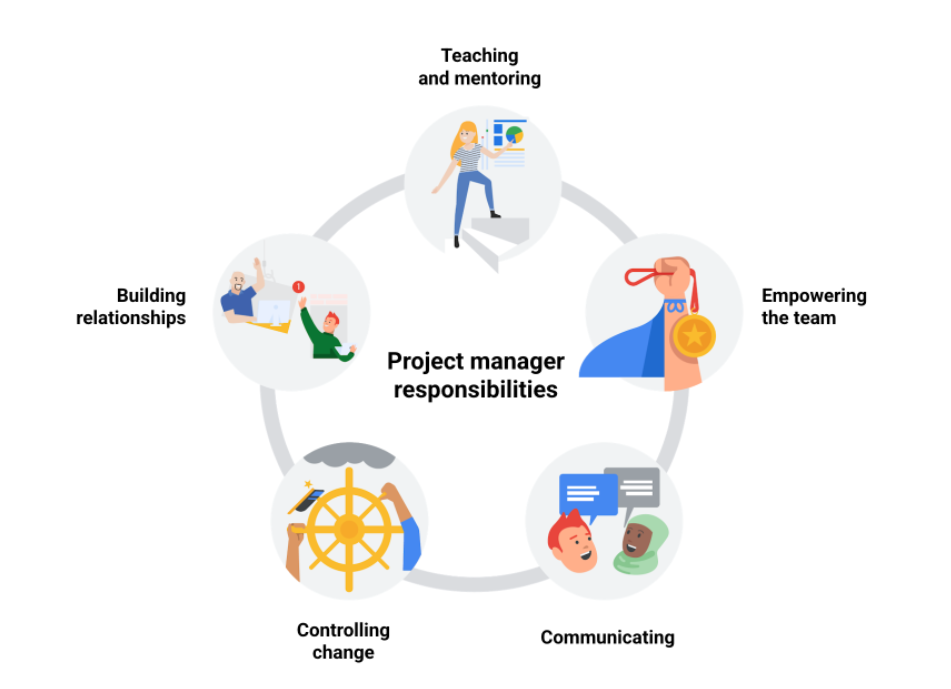 A project manager's role within a team
Hold all team members accountable for their assigned tasks
Ensure that issues and risks are tracked and visible, and be able to establish escalation paths
Understand and help teammates adopt the right workflows and project management styles
Collaborate with other teams at the organization to meet the requirements based on project, scope, schedule, and budget
Working with cross-functional teams
Cross-functional Team?
A cross-functional team includes team members who have different backgrounds, types of expertise, and job functions.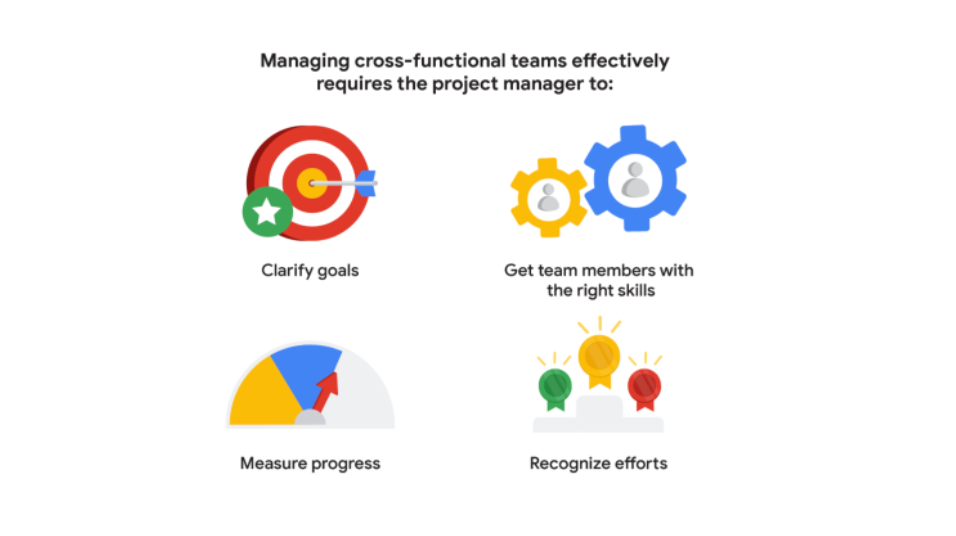 The core skills of a project manager
1. Enabling decision-making

Make the decision-making process collaborative
Empower your team to express their opinions and make their own decisions
2. Communicating and escalating

Clearly communicate
1. Project goals and expectation
2. Team member roles and responsibilities
3. Constructive feedback
3. Flexibility

Ability to adapt and overcome changes and challenges

1. Flexible planning
- Assess external constraints.
- Plan for risks and challenges.
- Calculate "float" in your schedule

2. Handling ambiguity
- Keep calm
- Express empathy
- Communicate what you know clearly
- Make decisions and stick to them
- Trust the expertise of your team
4. Strong organizational skills

Utilize the abundance of organizational tools

Planning and scheduling software (templates, workflows, calendars)
Collaboration tools (email, collaboration software, dashboards)
Documentation (files, plans, spreadsheets)
Quality assurance tools (evaluations, productivity trackers, reports)
Leadership and team dynamics
Influencing without authority

Guide teammates to complete their assigned work without acting as their direct managers
Key interpersonal skills

Communication
Negotiation
Conflict mediation
Understanding motivations